Pave's Levels represent the hierarchy of employees. The employee compensation leveling schema is designed for companies of all sizes and consists of 10 levels. Executive compensation is leveled based on C-Level versus VP-level, as indicated by the employee's title.
Definitions
Role Family - this is the function a role is a part of, often discernible by the department or team this role falls in at your company.
Role Level - this is how senior, experienced, and the scope of responsibility that the role covers.
Role Track - this is the determination of whether the role is a Professional, Manager, or Support
Title - this describes the department, the level of the job, or both
Employee Compensation Benchmarks
A combination of Family, Level and Track are used when benchmarking employee compensation.
Decoding Job Levels
Pave's job levels are denoted by their track (P for Professional, M for Management) and their hierarchical level, as denoted by a number. The higher the number, the more senior the role.
There are 10 individual levels, broken down as:
Management: M3, M4, M5 & M6
Professional: P1, P2, P3, P4, P5 & P6
For companies that may not have a comprehensive internal job level framework yet, we offer a simpler, blended level structure that can be used to Benchmark employees against. Pave's job levels are grouped into blended Entry, Mid, Senior, Manager, Director, and Executive levels. The blending map is included below for your reference.
P1 → Entry
P2-P3 → Mid
P4-P6→ Senior
M3-M4 → Manager
M5-M6 → Director
Blended Levels are more applicable for early-stage companies with broader levels and responsibilities.
Alternatively, the Detailed Levels are more applicable for later-stage companies with granular levels and responsibilities.
Choosing the Right Level
By Title
Titles describe a role's responsibilities and seniority. Just like the names of your conference rooms, the titling structure is unique to a company's culture — this is a guide, but may not map to your exact titles.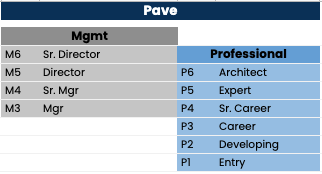 By Job Responsibilities
The scope of responsibilities of titles varies at different companies. To find the right level, think about the scope of impact and responsibilities of the role. Pave partnered with The People Design House -- a group of highly operational People Ops leaders at scaling companies -- to define the scope associated with the different levels.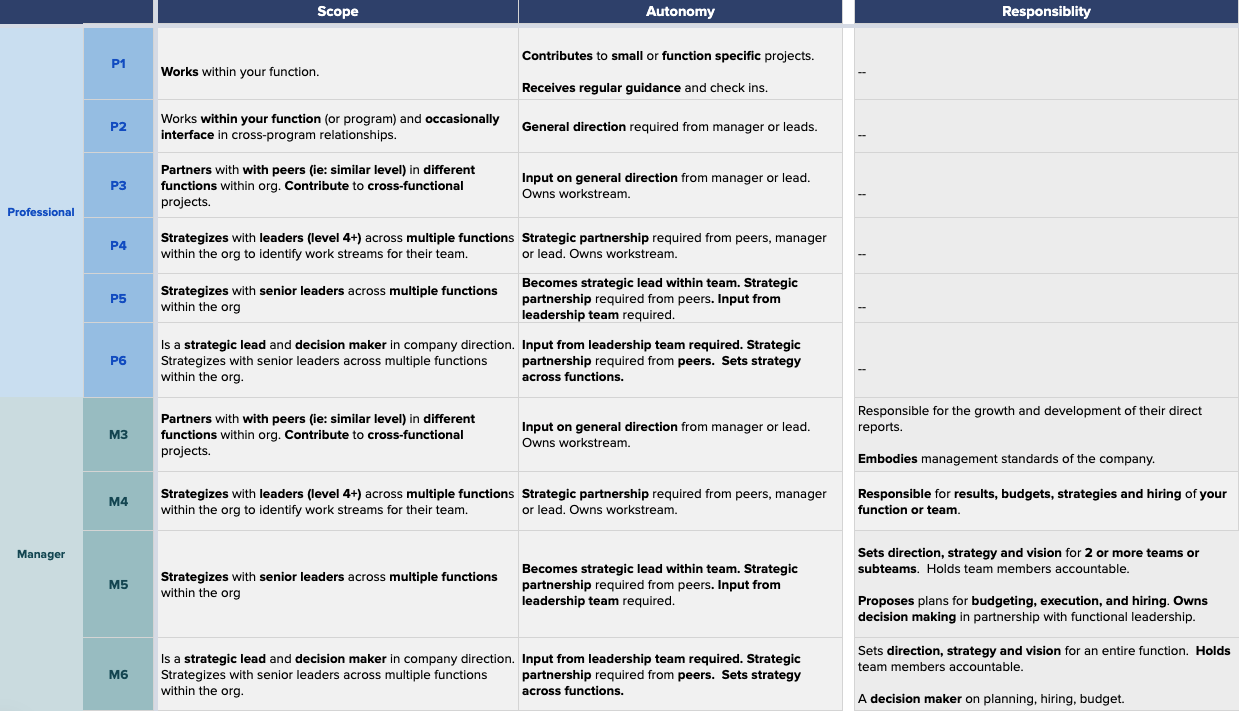 Note that these level definitions and job responsibilities are generalized so they can apply to all job families; accordingly, you won't see job-specific skills. Select the level of the role based on scope, autonomy and (if applicable) management responsibilities.
Compared to Option Impact & Radford
If you'd like to compare Pave's Job Levels to Radford or Advanced-HR/Option Impact's job levels, this is roughly how they compare:

Executive Compensation Benchmarks
Title is used when benchmarking executive compensation. Level, Track & Family are not used when searching Executive compensation benchmark, as both the level and the family are embedded in the title.
Title abbreviations, such as CTO, are translated into their longer version, such as Chief Technology Officer.