Viewing your Reward Letter
When your manager or HR team lets you know that your Reward Letter is ready to view, you can view the letter in Pave using the following steps:
1. Log into Pave at https://app.pave.com/login
2. Select Total Rewards in the left-hand menu
D

epending on your permissions you may not need to select Total Rewards and will already be viewing your Total Rewards portal after login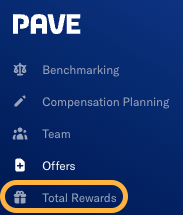 3. Once you're in your Total Rewards portal, click Reward Letters in the upper right hand corner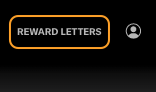 4. You will now be viewing your Reward Letter! On this page you will be able to download and print the Reward letter. If you have any questions about the content in your Reward Letter, please reach out to your manager / HR team - They'll be happy to help!
Total Rewards portal update
After viewing your Reward Letter you may notice you received an increase in your compensation - whether that be salary, equity, or both. It's important to note that the updates will not be reflected in your Total Rewards portal right away.
It's not until the information has been updated with your HR/Payroll system and Cap table system that it will be reflected in your portal. It's best to get in touch with your HR team in regards to when you can expect to see this information updated. If the information is showing as updated in each of those systems and you are still not seeing the updates in Pave, please reach out to us here!